Sat & Sun, Nov 12 & 13
11 am to 5pm both days

ARTIST EXHIBITION
The Vallejo Naval and Historical Museum will host a special, month-long show featuring VOS Artists, Oct 22 through Nov 24
Tuesdays through Saturdays, noon to 4pm
Pick up an Artist Directory at the Museum on or at any participating artist location to plan your free, self-guided tour of Artist Studios and exhibition locations throughout Vallejo. The Museum will be open Saturday, Nov 12 between 10am and 4pm; and closed on Sunday, Nov 13.
ARTIST RECEPTION
Friday, Oct 21, 6:30pm to 8:30pm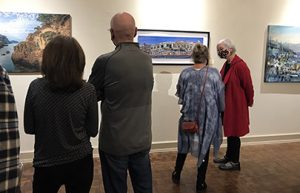 Marketing materials will be available to Artists during the reception.
See Key Dates for more information.